---
Big Blue
F-Zero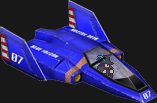 Big Blue was my first attempt at covering a song from the already metal soundtrack of F-Zero. You'd think it'd be Mute City, but that's too obvious.

I'm not really a big F-Zero guy but the soundtrack is great, probably some of the heaviest stuff licensed by Nintendo. There's even death metal sounding tracks in some of the later F-Zero games.

Big Blue was at the top of the old Youtube suggestion box for a while, neck and neck with Dark World, which meant it was time for GaMetal to tackle some F-Zero.

There is no original solo in this, just the original tune played over 3 times in 3 different ways. The first 2 runs we have the Guitar and Keyboard going back and forth between lines, however the lines each instrument plays switches to the opposite on the second run. The 3rd run through is only guitar with some of my uncommonly used wah pedal.

So what will be the next F-Zero song for GaMetal? I've been messing around with The Long Distance of Murder a bit, so it could be that one.
Back to '09-'12 >>